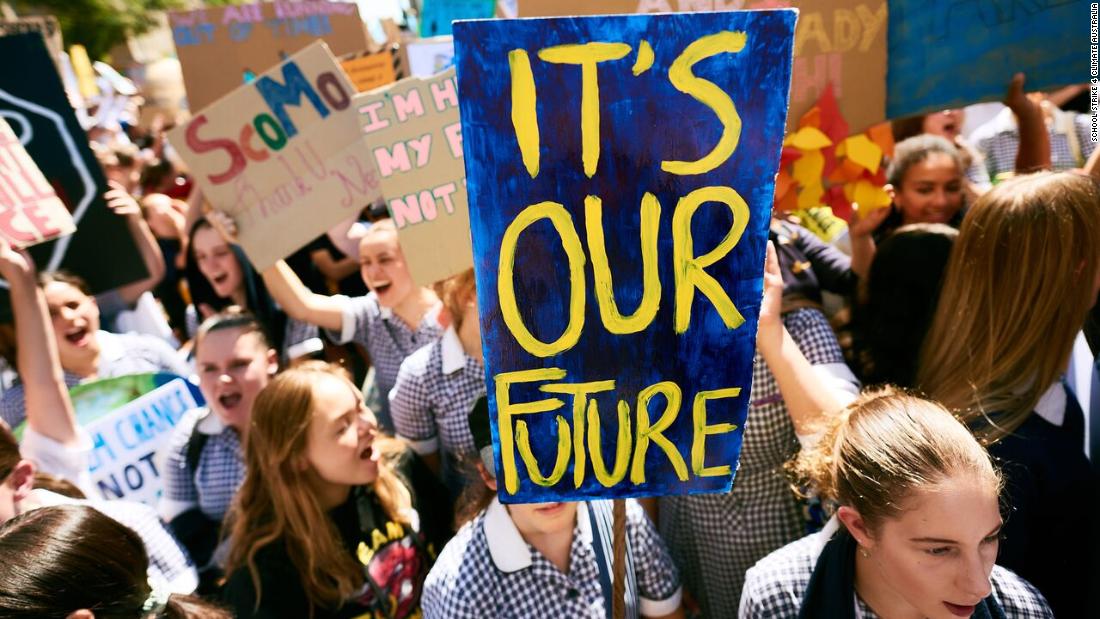 Brisbane, Australia (CNN)"This is the climate election," declared Queensland Greens Sen. Larissa Waters at a Brisbane forum, weeks before the Australian election this month.
"When I was first elected in 2010, scientists were telling us it was the critical decade," Waters told the audience. "It's nearly the end of that decade and we've bloody wasted it."
On paper, at least, the country is taking action.
Despite this, in its 2018 Emissions Gap Report, the United Nations said there had been "no improvement" in Australia's climate policy since 2017, noted that emission levels for 2030 were projected to be "well above" target.
"Australia has certainly been lagging behind on climate change action, by which I mean the effort to decarbonize the economy and reduce emissions," said Frank Jotzo, director of the Center for Climate Economics and Policy at the Australian National University.
Efforts have been held back, he said, by intense political wrangling that has seen policies introduced then revoked.
But in this election politics might also help.
Earlier this year, when it became clear the government's perceived inaction on climate could cost it votes, it introduced a climate policy, which includes a $2 billion Climate Solutions Fund, as well as plans for the world's second largest pumped hydropower station.
While climate change expert Jotzo said the new climate policy was light on details, he saw it as a "positive sign."
"It's an acknowledgment that a mainstream party in Australia needs to have a climate change policy in order to be electable," he said.
While both main parties are talking a big game on climate change, their commitment to action is being tested by the prospect of a large, new coal mine planned in north Queensland.
The issue has divided voters into pro-Adani or anti-Adani camps in Queensland, said Maxine Newlands, political scientist at James Cook University.
"But that's really a trope for the whole debate about where does Australia go and its climate change policy," she added.
When the mine was proposed in 2010, the prospect of 10,000 new jobs caused a rush of excitement in Townsville.
No party wants to lose voters in regional seats by appearing to condemn the unemployed. So both parties are trying to avoid the issue.
Environmental protesters, however, are facing it head on.
A convoy of Stop Adani protesters recently drove up the east coast of Australia from Hobart in Tasmania to the mine in central Queensland, some in electric cars, to spread their message to voters.
"If this mine goes ahead, there are half a dozen mines that will surely follow and that will render us with no chance of turning around climate change," Greens Party leader Richard di Natale said when the convoy stopped in Brisbane.
Protesters say more mines in North Queensland could boost traffic from coal ships near the Great Barrier Reef, which has already suffered damage from higher emissions caused by warming seas.
The natural wonder runs 2,300 kilometers (1,500 miles) down the length of the coast, 350 kilometers (217 miles) from the mine.
Adani company says that in stage one, the mine will produce only a small fraction of Australia's annual coal output, and argues that if Australia isn't mining the coal, other countries will step in to meet growing demand from Asia.
The government cleared the way for the mine just before calling the election. Now, Labor — running on its pro-environment platform — needs to give final approval, at a local level. But the timeline for approval isn't clear.
Whatever happens, there is likely to be anger — and potentially protests — on the losing side.
Climate change expert Jotzo said he hopes that the next Australian Prime Minister, whoever that might be, will soon realize that a faster transition to renewable energy won't lead to economic ruin — it could, potentially, have the opposite effect.
"There is an interesting vision of Australia as the renewable energy superpower, as an exporter of renewable energy. That is a realistic prospect and one that holds significant economic opportunities," Jotzo said. "What you'd see is very large solar parks in the north of Australia producing very large amounts of hydrogen that are then being shipped to east Asia and potentially Europe."
Of course, that would take money, time and political will.
Right now, the country seems to be short of all three.
Original Article : HERE ; This post was curated & posted using : RealSpecific
Thank you for taking the time to read our article.

If you enjoyed our content, we'd really appreciate some "love" with a share or two.

And ... Don't forget to have fun!